Message from COD, Education Foundations and Educational Planning and Management
Welcome to the Department of Education, Criminology and Social Work. The Department was established in 2014 as one of the three Departments of the Faculty of Education and Social Sciences of Kibaii University College. Since its inception, the Department has committed itself to developing and enhancing various academic programs in the area of teacher education and Criminology and Social Work.
The Department has been and continues to be a major contributor to the professional development of teachers in both arts-based and science-based disciplines. The Department has vibrant graduate programs through which it has become a major contributor towards research in and acquisition of skills in the planning, management and the maintenance of quality in educational institutions. Thus, the Department is playing a very dynamic role in human capital development in the Education sector for sustainable development. It intends to maintain a leadership role in the generation of new knowledge, ideas and innovative pedagogical skills leading to enhancement of secure quality of life for humanity.
Crime has kept on changing faces globally making security agencies unable to curb it. It is because of the amorphousity of the faces of crime that the department gave birth to Criminology and Social Work Section which has programs that can equip citizens both in security agencies and those aspiring to join them with knowledge and skills that can not only detect crime but combat it. The department has attracted many students from the police department, prison department, probation department, private security firms, provincial administration and the judiciary.
The strength of the department lies in the strong human capital resource starting from the chairman who is not only conversant with pedagogical skills but also in security issues given the fact that he is finalizing his Ph.D in Peace and Conflict Studies. The current chairman is a motivational speaker and a strong believer in integrity which is embedded in his strong Christian foundation.
The department makes the university to have an edge over other universities because it not only prepare students to fit in the job market but embraces science and technology in preparing her students to be job creators wherever they are in line with the objectives of vision 2030. The department has accelerated programmes whereby we have intake every semester. Lastly, we have launched ODeL, weekend, evening and school based apart from fulltime modes of study. This is intended to provide the rare opportunity of learning to a global population.
Thanks.
Department News and Events
Applications are open for Kibabii University Early Career Grant proposal writing training, supported by Association Commonwealth Universities (ACU) Researcher Training grant scheme. This training will equip the participants with knowledge,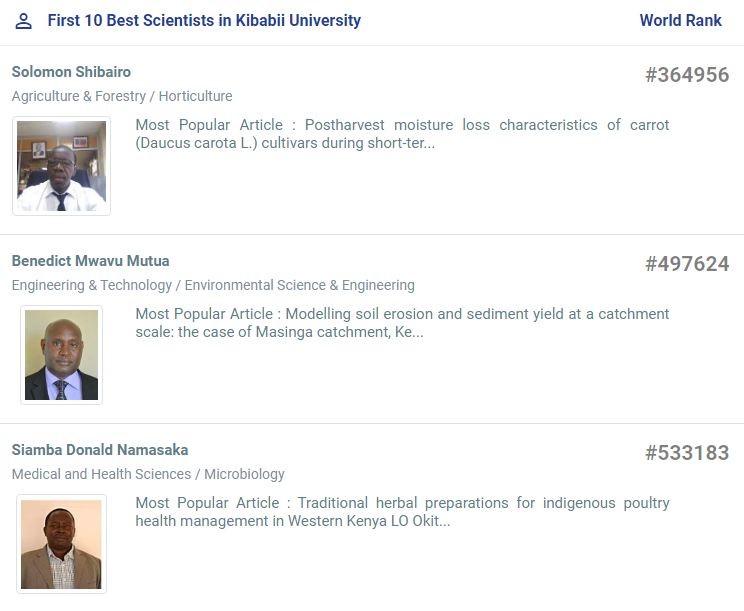 Innovative Research is an implied philosophy among staff members of Kibabii University across all disciplines. In recent statistics provided by World Scientist and University Rankings also known as AD scientific
Department News and Events
Applications are open for Kibabii University Early Career Grant proposal writing training, supported by Association Commonwealth Universities (ACU) Researcher Training grant scheme. This training will equip the participants with knowledge,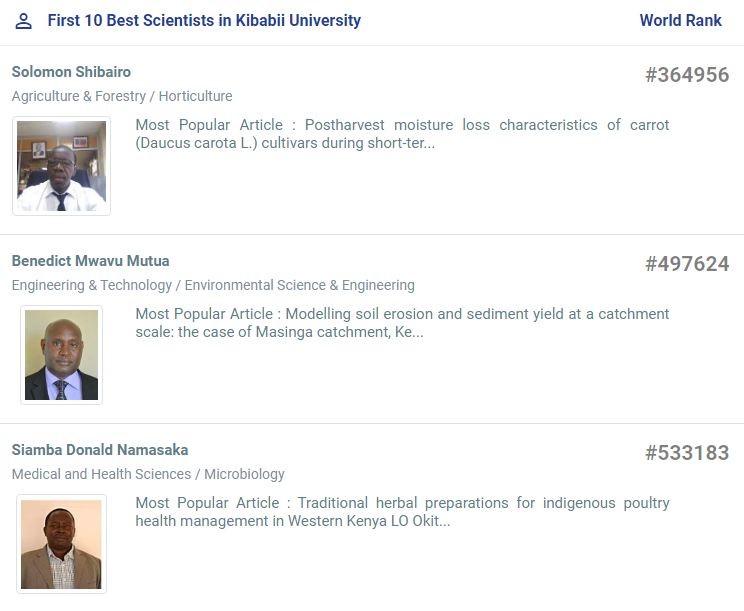 Innovative Research is an implied philosophy among staff members of Kibabii University across all disciplines. In recent statistics provided by World Scientist and University Rankings also known as AD scientific
About Department of EPM & EDF